News
Posted by Steve Hopf on
Super Savings this weekend 20% DISCOUNT on all products Manufactured by Ultra Dent Tools! www.ultradenttools.com  Friday, Saturday and Sunday - January 27th - 29th.    DISCOUNT APPLIED AUTOMATICALLYDURING CHECKOUTsale ends Sunday Jan. 29th at 11:59 pm PST Our shop will be closed from 1/28-1/29. Any questions or concerns should be emailed to sales@ultradenttools.com and will be answered when we are back in the office. 
Posted by Anthony Loera on
Posted by Anthony Loera on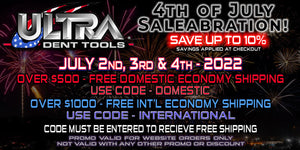 Ultra 4th of July weekend sale , July 2nd 12:00 AM PST - 4th 11:59 PM PST . Save up to 10% off site wide during the sale and use promo codes Domestic for free domestic economy shipping on orders over $500 and International for free International economy shipping orders over $1000.
Posted by Amy Graham on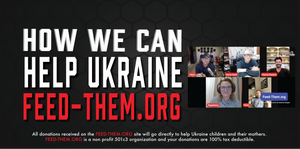 Ultra Dent Tools would like you to take a minute and hear about the families in Ukraine and how we can help. Donations can be made to https://www.feed-them.org. We appreciate everything and thank the PDR community for being so great. Thank you. All donations received on the FEED-THEM.ORG site will go directly to help Ukraine children and their mothers. FEED-THEM.ORG is a non profit 501c3 organization and your donations are 100% tax deductible.
Posted by Amy Graham on
Did you see us at MTE 2022? We LOVED seeing you guys! We were so happy to be able to spend last weekend in Florida with other great PDR techs! Shop our whole store online if you missed us at ultradenttools.com!
---